Whilst Drunk., I Found God., Booze = Bad.,
15 Year Member
Joined

Dec 12, 2003
Posts

6,133
Couldn't edit my old master thread so we'll just dedicate one to these. I buy way too many of these things...it's a problem. So I find myself flipping them every so often when they start vulgarly stacking up. So my impulse/fickleness is your gain. I've tweaked the hell outta' the OS's on these so they are way better than buying a new one out of the box imho. They also come with Sandisk Ultra mem cards instead of Chinese crap. All are very mint and very lightly used.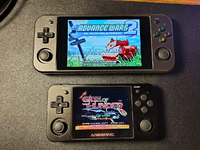 Anbernic RG351MP - $105 shipped SOLD
(Black, running latest Amber Elec) w/loaded 128gb card. This will play 8-bit up through PSX (some dreamcast, PSP and Saturn if you want to tinker) perfectly. Comes with wifi dongle, charge cable. It's had the screen cover applied since day one. Great battery life, very premium feel. These go for around $120 + ship new.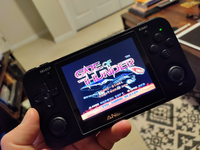 Anbernic RG552 - $160 shipped
$150 Shipped
(Black, running latest Amber Elec) w/loaded 200gb card and carry case. This will play everything up through Dreamcast with decent Saturn/PSP performance. This also runs Android 11 and you could utilize that for more performance up through some Gamecube. I've configured it for Linux though. These are around $200 + ship new.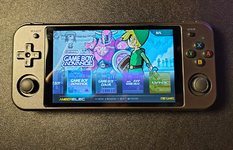 Revo K101+ - $60 shipped SOLD
(Clear w/blue buttons) One of the first good GBA clones. Compatible with GBA carts (not GB or GBC) inlcudes "K-Card" flash cart loaded with 8gb card full of GB/GBC/GBA. Comes w/a Mini USB cable to charge.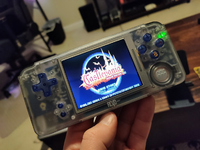 Miyoo Mini V2 - $70 shipped SOLD
(Clear black, running latest Onion OS. w/Sakura Retromodding "Sega" overlay, which is easily removable) comes with Miyoo case, w/loaded 32gb card. People have a raging boner for these. They are very cool and I dig it quite a bit, but it's a bit small for my hands. Excellent system w/huge fan scene. These are currently being price gouged all to hell on ebay. Cheap "V2" listings on Ali usually get you a V1. I paid $70 before replacing mem card and adding an $8 overlay. (pic for reference)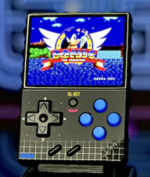 I'll get some pics up soon.
Last edited: