Bewbs! Z'OMG, Teh BEWBS!,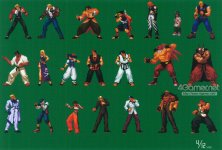 Source:
http://www.orochinagi.com/2016/06/garou2-sprites-revealed?fb_ref=Default
Interview is with Oda and is in Japanese. Hopefully The Professor can translate it.
That officially puts the kibosh on that "proto" screen with Mr. Karate being legit.
Its pretty awesome that Oda was able to release this, and you definitely get a feel that with him and his team there, its a bit like the old SNK again. You can tell they really give a shit and care about the history of the company and their work there.
Last edited: