Hello all.
Wanted some possible insight with a problem i'm having.
Bought a 4 slot on ebay that was listed as untested, so I assumed it was broken...and I was right.
It had bad caps (replaced all of them), and a work ram error shown below.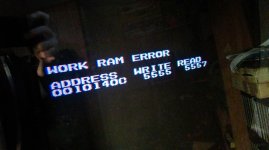 Since it was the second set of bits, replaced the ram at G9 and it fixed the error.
It also had battery leakage, which I believe I fixed. I tested continuity between the traces shown below, and only the first 4 were bad. The rest look okay, but I'm thinking I'll check all of them regardless again now.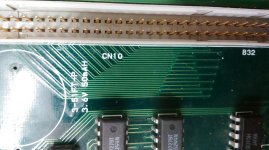 Anyway, when I power it on, it recognizes games perfectly fine. Audio works etc. I tried MS2, however, the health bars and credit displays on the bottom are missing. There's only the credit display for player 2, but no health bar.
(pic coming later when I get home from work)
I"m assuming it has something to do with the connections to S1 on the cart. It does this on every game I put in. I've cleared the backup ram as well. Again, I'll post pics of the actual scree later. Everything else works fine. Sound, controls, etc.
I have replacement chips for the top board if need be.
Would love to hear some input, thanks for any help friends!