NEST Puppet

Joined

Feb 27, 2009
Posts

163
I am happy to share the newest version of the 240p Test Suite, now available for the Neo Geo platform. It is feature complete, with a few adjustments to make. But I'd like to hear your feedback on it. It is available for
download at itchio for free
as it has always been.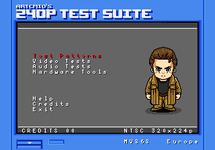 Suggestions are welcome.
Here's the specific feature list:
New font for better readability via composite video, as suggested by Pinobatch. Old font is still selectable
Has all patterns and features from any other version. It is the most complete fist day release to date:
304 and 320 horizontal patterns, following both SNK guidelines and the full resolution.
Custom audio driver for sound test and MDFourier. Uses FM, PSG, ADPCM-A and ADPCM-B or CDDA when in Neo Geo CD.
Audio driver can also do a Z80 RAM test.
ADPCM-B stereo can be reversed in BIOS for MVS1C systems.
Includes HCFR for those interested in using a colorimeter.
Controller test works with all MVS ports and 4 player extension if available
Future refinements:
Improve Monoscope accuracy against broadcast hardware. It is very close now, but will check with Keith Raney
Adapt MDFourier so that the same audio recordings can be used to compare MVS, AES and NGCD since clocks differ.
Currently an option to limit IRE is available. This only makes sense in AES via composite video.