Joined

Feb 10, 2016
Posts

1,921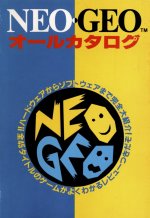 I'm happy to present an uncommon and obscure Neo Geo booklet for your viewing/reading pleasure: the "Neo Geo All Catalogue" from September, 1993, published by Tokuma Shoten.
The Neo Geo All Catalogue was a booklet that was packed in with Gēsen Tengoku Vol. 1, an arcade focused magazine from Tokuma Shoten. All Catalogue weighs in at a little under 50 pages of reading material, giving the reader a crash course in the Neo Geo and its games up to that point. You'll find an overview of the Neo Geo hardware, its specifications, pricing, and information on all of the games that were available when it was published.
I had purchased this a little while ago, and when I saw that it was in fragile condition, with a few pages already falling out, it would make a perfect candidate to be disassembled and scanned. The page condition isn't the finest, but I think this copy is more ideal to be sacrificed, taken apart page by page, than one that's pristine.
Like my Neo Geo World Vol. 1 scan, this was done at 600 dpi and comes in at 184.5 MB in size. Enjoy!
Download here: https://drive.google.com/file/d/1RXcD3SjgiMJu69QQbDskjh3sJm67TTmd/view?usp=sharing