by wagesofsyn
| | |
| --- | --- |
| US Title: | The King of Fighters '95 |
| Japanese Title: | The King of Fighters '95 |
| By: | SNK (Dist. by SCEE in EU, SCEA in US) |
| Year: | 1996 |
| System: | Playstation |
| Other Versions? | Neo Geo: Home cart, CD, & MVS; Saturn; Gameboy(!) |
I'm going to do my absolute best to be objective in this review, but it's going to be hard. To be honest, I played Fatal Fury 2 once on a Neo Geo MVS, and then never played another Neo Geo game, port or otherwise, until King of Fighters '95 on the PSX, and I didn't play it until about '97. I loved it. I was sick and tired of the Capcom systems of battle, and King of Fighters was a breath of fresh air.
Graphics
The characters are big, each with their own distinctive fighting style and personality. The backgrounds look very true to the Neo Geo original (which I own), and are very well animated. The characters themselves move fluidly through all their moves, with a surprising amount of frames of animation (as much as KOF '97 or '98). My only complaint is some of the special moves don't look as grand as I think they should (Billy's DM looks a lot better in '98 then it does in this game), but this isn't a major gripe.
Gameplay
The system of battle in King of Fighters feels a lot different than any Capcom game. I was used to playing Street Fighter Alpha when I first played KOF, and I got trounced. The King of Fighters fighting engine requires a lot more finesse than the somewhat simplistic Street Fighter engine. Controls are surprisingly tight for an earlier PSX game. Special moves are a little difficult to pull off, with some odd button combinations. It shouldn't take too long to learn them, but at first, they're a little harder than later KOF games. Load times can get on your nerves, but they're not that bad, and much better than Neo Geo CD.
Sound
Great stuff. Every voice, including the announcers, are clear and concise. Though the Japanese voices trying to say American phrases aren't quite clear, you can at least hear them distinctly. The music quality is some of the best in the series, and the music really captures the stage's look perfectly. The hits and kicks sound the tinniest bit washed out, but everything else sounds great.
Final Thoughts
Even if this weren't my first SNK game, I'd still give this one a high rating. The biggest character count at the time, 26, including some favorites of mine (Billy Kane and Eiji Kisaragi). Good controls, sound, and graphics make this game one of SNK's best, on the PSX and Neo Geo. If you're a fan of King of Fighters or SNK and you don't have this game... go buy it now.
- John Gillerlain
Overall: 8.6 / 10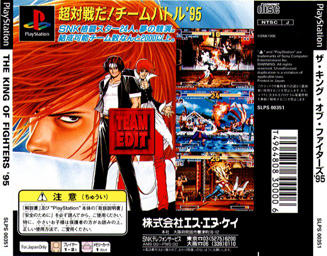 Forums | Neo Collection | Master List | AES Price Guide | MVS Price Guide
CD Price Guide | Neo Store | Screenshots | Reviews | Home | Email