by Sifl
| | |
| --- | --- |
| US Title: | Metal Slug 2nd Mission |
| Japanese Title: | Metal Slug 2nd Mission |
| By: | SNK |
| Year: | 2000 |
| Size: | 32 Megs |
| Link Option? | No |
| B/W Compatible? | No |
| Color Compatible? | Yes |
| Japanese Option? | Yes |
| English Option? | Yes |
The King of all action games graces the Pocket for the second time in the last NGPC title to officially reach American shores. How did this system go out, you ask?
Short Answer: In a total blaze of glory, that's how!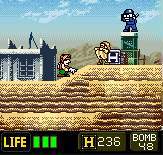 You can start off by picking one of two heroes: Marco or Fio (the Manual gives these names, however they look nothing like their Neo counterparts) Unlike the Neo games, there are differences between the two heroes like the weapons they pick up and the routes they take throughout the game.
You are going to be playing this one for a while as there are 38 stages for you to conquer, as well as 100 hostages to free. There is also a time attack mode and a few surprises once you rescue all your POW's.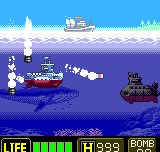 Graphics and Sound are as good as they get for the Pocket, complete with the announcer shouting the name of the weapon you just picked up, I only wished they had the grunts screaming when you killed them, but at least there's some speech. Many sounds come from its big brother and graphics look a little better than First mission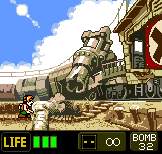 Control is much improved over First mission as now you can just tap OPTION to throw grenades, vice tapping OPTION to switch between your weapon and your grenades.
This game is a must-own for any NGPC owner, plain and simple. As stated earlier, this is the last NGPC game that we got to see. Until then, Lets hope for a Third Mission on GBA.
----------------------------------------------
More Reviews of This Game:
by Kazuya_UK - Courtesy of Kazuya's
Forums | Neo Collection | Master List | AES Price Guide | MVS Price Guide
CD Price Guide | Neo Store | Screenshots | Reviews | Home | Email