by Neon8
| | |
| --- | --- |
| US Title: | King of Fighters R-1 |
| Japanese Title: | King of Fighters R-1 |
| By: | SNK |
| Year: | 1998 |
| Size: | 16 Megs |
| Pocket Link? | Yes |
| Dreamcast Link? | No |
| B/W Compatible? | Yes |
| Color Compatible? | Yes (plays in B/W) |
| Japanese Option? | Yes |
| English Option? | Yes |

The King of Fighters: Round 1
One of the games to start off the Neo-Pocket legacy was one of the first released games for the black and white Neo-Pocket. King of Fighters Round 1 showed fighting game fans something they had never seen before on a handheld system. It was a pocket fighting game like none before it. Using large super- deformed sprites was a great idea for SNK to animate the characters well. Finally a fighting game would be similar to its big brother (KOF97') and really fun as well.
Graphics- 8.0
Obviously as time has gone on KOF:R1 does not present the same graphical goodness as SNK Vs Capcom: MOTM and the new GBA fighting games because of no color being present in this b/w game. However the game's characters just look great very similar to KOF:R2 of course and animate very well. This game was a huge achievement back in the NGP days and the game still looks great on the NGPC today of course. The special moves are present in their full glory as well also animating quite nicely.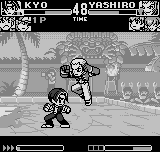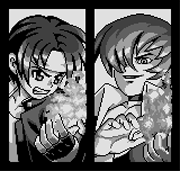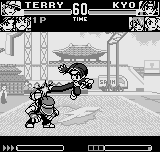 Gameplay- 8.5
KOF:R1 much like KOF 97' is an extremely fun game that presents itself well. Although KOF:R2 is superior because of its making mode. Collectors will want to grab this release as well. KOF R:1 features Advanced and Extra modes for you to use to fight which is very useful for keeping up replay value. Team edit is also in KOF:R1 so you can build your favorite teams. The various Orochi characters are the bosses in the game and you can also unlock hidden characters like Orochi Chris. The backgrounds are also cool looking for the time when that game was released. SNK also left in the ability to use Kyo 94' by pressing the option button. Overall the game is very much like the arcade version.
Sound- 8.0
The music is very similar to KOF:97' and fits well throughout your battles in KOF:R1 and the sound effects of the special moves also came out nicely. Of course there's no voices to be found because this is a NGP game but it doesn't really matter all that much anyway.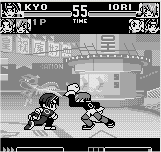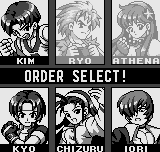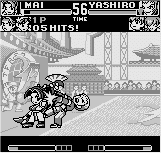 Control- 10.0
I think that any fighting game on the NGP/NGPC is guaranteed to have perfect control. The mini-joystick is just so comfortable for pulling off your moves and makes the game that much fun. Truly KOF: R1 deserves a 10 for control.
Innovation- 8.5
While newer NGPC fighting games have surpassed KOF:R1 it still gets an 8.5 for starting it all and showing fans that fighting games can be done well on handhelds.
Replay- 8.0
I've heard some people prefer this game over KOF:R2 for some reason. I still like KOF:R2 better but for some reason will come back to play this fighting game every once and awhile. The hidden characters add some replay value to this game of course as well as the team editing and 2 fighting modes.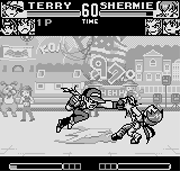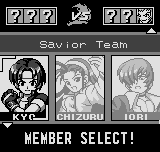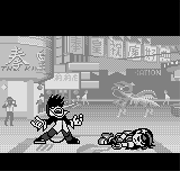 Overall- 8.5
A great effort from SNK when the NGP came out and still fun today! Pick this one up if you can find it, and don't own KOF:R2 or just want to have both KOF's. Now where is that KOF:R3 Brezzasoft? ;-)
-Neon8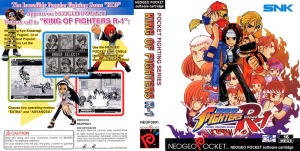 ----------------------------------------------
More Reviews of This Game:
by Kazuya_UK - Courtesy of Kazuya's
Forums | Neo Collection | Master List | AES Price Guide | MVS Price Guide
CD Price Guide | Neo Store | Screenshots | Reviews | Home | Email