by Metal Slug
| | |
| --- | --- |
| Japanese Title: | Ganbare Neo Poke-Kun |
| By: | SNK |
| Year: | 2000 |
| Size: | 16 Megs |
| Pocket Link? | No |
| Dreamcast Link? | No |
| B/W Compatible? | No |
| Color Compatible? | Yes |
| Japanese Option? | Yes |
| English Option? | No |
Ganbare Neo Poke-Kun.
NEOP00970 SNK. 2000. NGPC only. Does not support B/W.
http://www.neogeo.co.jp/neopocke_kun/
Prepare yourself! Your NGPC is about to be invaded!
Perhaps invaded is too strong a word, occupied is possibly closer the mark! Occupied by "Ganbare"!
So, who is Ganbare? Well, that's where things get a little more tricky! Ganbare is a sort of Neo-Engineer, and a Neo-Programmer, which I'll come to in a minute. Firstly let me fill in some background here.
Ganbare lives in your NGPC. Yes you read correctly, he has a small apartment inside your NGPC! Which is great, because during the day, he'll go to work inside your NGPC, keeping the PCBs in tip top condition! The best thing is, if he's happy, he will program new games into your NEO!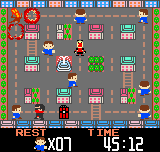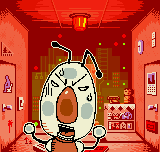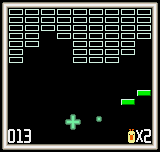 All you have to do is make him happy right? Then you'll get some new games to play! Sound simple? Not quite! Problem is you don't have any direct control over him, and his friends are pretty weird! (and that's an understatement!) He does live in your machine though, so you can affect his surroundings! This is where the game begins. The object, as I said is to make him happy. In order to do this, you can trigger certain random events, by pressing buttons or moving the joystick in each direction. I don't want to give all the controls away, as they are pretty simple to master. Suffice to say that pressing "A" will ring the doorbell and allow one of Ganbare's bizarre friends to visit, these encounters last only a few seconds, but some of his visitors will have you rolling around with laughter! These range from a Rockman/Megaman clone, to a pervert with a party popper up his butt! (really! He pulls it! And that's not the worst of it!!)
Time for a tip! Circle the joystick, to trigger a major event!! Try both ways! Also, don't forget to save regularly by pressing "option" to access the save menu.
By The way, Ganbare is in tune with the clock in your console!! So don't expect him to work at night.
Anyway, that's the first part of the game. Its superbly different and refreshing. A great little "cyber-pet" type sim, very worthy in its own right!
Next are the sub games! 30 in all, all are, one level games, based on or inspired by classic arcade games!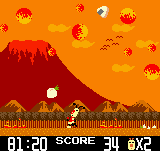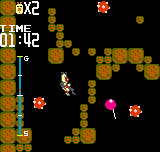 Pressing the "B" button will access these games from sub screens (In yet another hysterically funny way!). Each game has a "locked" warning symbol to begin with, as Ganbare works on them, a percentage figure rises, until it reaches 100% and the game becomes playable!
The games themselves, are based on such diverse titles as, Pong, Galaxian, Shinobi, Pool, Star Wars Arcade, Asteroids, Jetpac, KOF, and many more that I wont tell you, because it really is the most fabulous surprise, when you open a new game and find that it is a childhood favourite, with Ganbare in the leading role! Almost every genre is represented! It's a miracle that it all fits on a Neo Pocket cart!
Successful completion of these games, seems to influence Ganbares willingness to open new games. Also, there are various "medals" awarded for exceptional scores in these games. Not exactly Gold, Silver and Bronze! More like bits of food! You'll see!!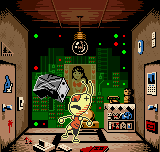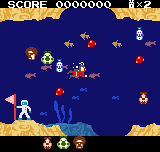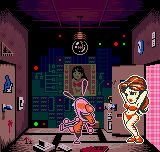 To miss this game, is to deny yourself, arguably the best title on the NGPC. It is so unique and so refreshingly bizarre, that the language barrier isn't a problem at all!
The Graphics and sound effects range from, adequate to superb, but the gameplay, is the most varied that you will ever find in a single game. This game is quite simply in a league of its own! Buy it now, while it is still so underrated! You will kick yourself when it is gone!
VERDICT:
Graphics. 8/10
Sound. 8/10
Game Play. 10/10
Replay value. 10/10
OVERALL. 9/10
SUPERB! UNMISSABLE!
Forums | Neo Collection | Master List | AES Price Guide | MVS Price Guide
CD Price Guide | Neo Store | Screenshots | Reviews | Home | Email